The Conference Board recently released a great study called The C-Suite Challenge 2018: Reinventing the Organization for the Digital Age. There are some fascinating nuggets in there.
Let's start with what keeps CEOs up at night: One third of the 28 geopolitical, social, and internal issues defined by global CEOs are directly related to problems that communication can solve. The top three are listed here, along with their rank in the list:
Failure to attract/retain talent (#1)
Failure to devise an effective internal performance measurement system for employees (#10)
Rebuilding public trust in business (#13)
By the way, these "hot button issues" (defined as: "short term events, issues, and situations that CEOs and C-suite executives believe will require special focus in the coming year") were given higher priority by global CEOs than terrorism, Brexit, health care policy, and tax reform.
Corporate communication certainly knows how to fix these issues, yet we consistently labor with small budgets and a lack of a seat at the table.
What gives?
The problem: The structure of most organizations
Consider these awkward arrangements:
Corporate communication departments generally take ownership of "trust," but, typically, "talent acquisition" is in a silo by itself—one communication shares with HR, now often the pariah because of its involvement in most sex-abuse scandals. Go figure.
"Measurement" is something that everyone assumes soft and fuzzy corporate communicators can't do. So it is typically relegated to finance, which is far too busy reporting quarterly earnings to pay attention to long-term evaluation.
The solution: A radical restructuring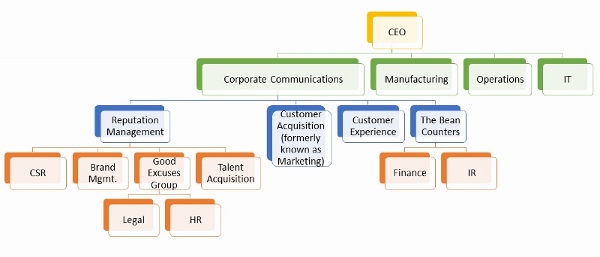 It's in the chart right above. Now,

...


This content is available to IABC members only. To continue reading, log in below.

To access all IABC content (including articles, case studies, webinars and more) learn more about becoming an IABC member and join here.

Forgot your password? Reset it here